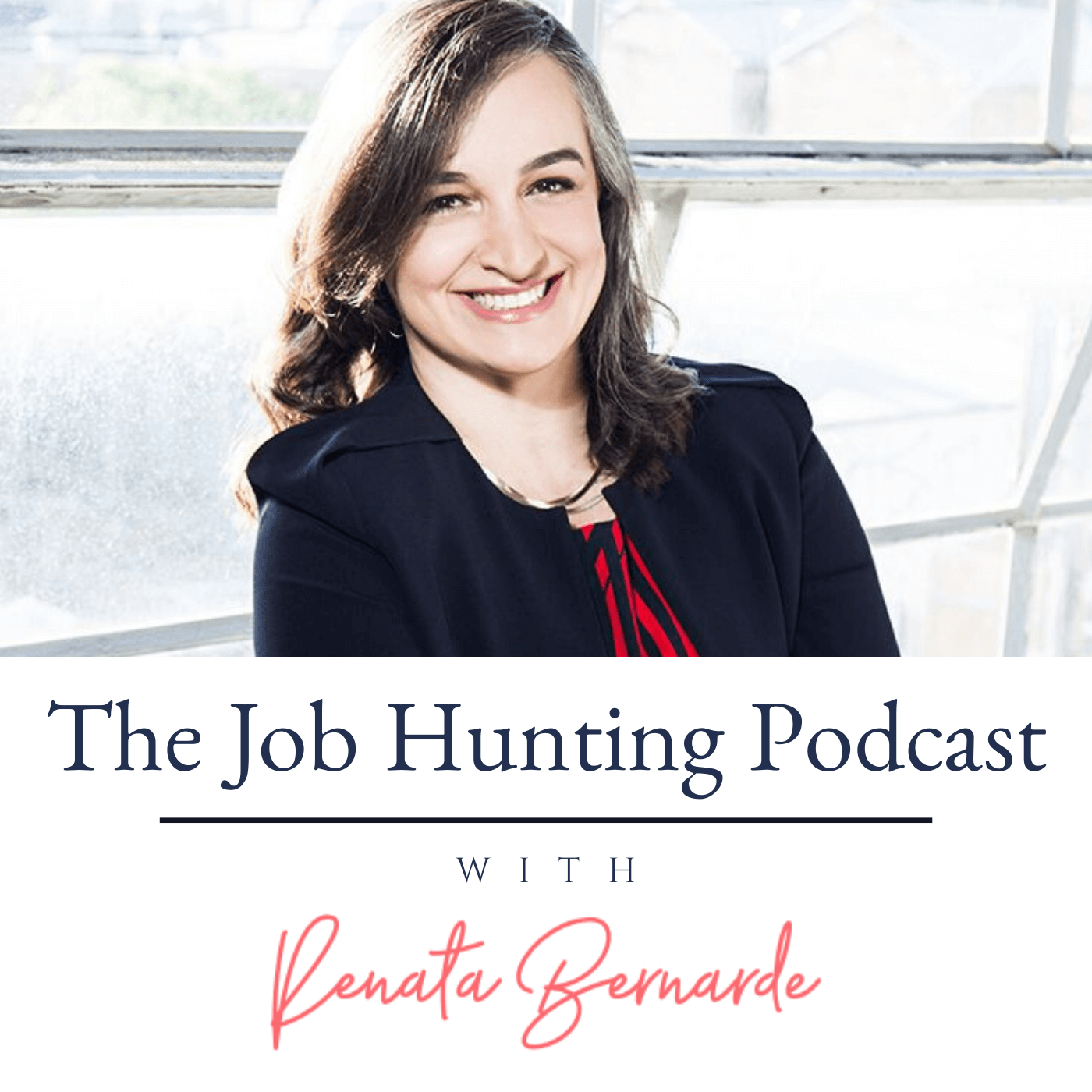 Hi, I'm Renata Bernarde, the Host The Job Hunting Podcast
The aim for this podcast is to help you nail your next job and have the career you want. If you are currently on the market looking for a new job or if you want tips on how to advance or change careers, make sure you follow this podcast on iTunes, YouTube or Spotify. 
How to book a free career session with me, subscribe to my newsletter and download my free guides?
When you join the Reset Your Career Community, you will access high quality advice to help you make better plans for your future, apply for jobs with ease (and no stress), and feel in control of your career. Learn more here: https://www.renatabernarde.com/join *
Episode Notes 
I want this podcast to be a one-stop-shop for you: career enthusiasts, job hunters, veteran professionals facing career disruption and transition, rising stars who want to learn as much as they can to enable their career progression and goals. Here you will to hear from experts and professionals that came before you, are a few years or decades ahead and have great stories and examples to share on how they have achieved their career goals.
For Paul Burrows, our guest today, the goal was to become financial independent and having the ability to make choices about where and when we wanted to retire, or how much he and his wife wanted to work. Paul is now financially independent and a few years ago he decided it was time to retire. He has been a great mentor to other professionals and takes a keen interest in career development, so I believe he is a great fit for this podcast, both with his career experience and knowledge, as well as by having the right mindset of giving back and helping others achieve their best.
Here are some key take-ways from the interview with Paul:
Redundancy experience:
Outplacement services only work to a certain point, but you need to be proactive and do the work yourself.
Be informed about what is going on in the corporate world: Paul reads the Australian Financial Review every day, and doing so during redundancy made him choose strategically his next steps.
Paul's goal was not to waste his redundancy: I believe he meant both the financial package and the opportunity to Reset His Career!
Career Transition
If investing in education, do so for certifications and studies that are an absolute requirement for your career transition: Paul studied to become a Financial Planner, so in his case the training was a requirement.
Understand the difference in status you will experience by shifting careers, sectors and be ok with it: It's a humbling experience.
Leverage from your previous career's strengths, your original DNA, to help you springboard and move faster in your new career: In Paul's case, once he gained initial experience as a Financial Planner, his business background got him higher paying jobs.
Retirement:
Test the waters before exiting the job market by doing contract roles and consulting.
Understand your personal needs: If you are like Paul's wife and the social interaction and work still brings you joy, financial independence gives you the choice to also continue working, if you wish to!
Financial independence**:
Financial independence gives you choice.
Reward yourself by saving, not spending.
It's never too late to start planning.
Set financial goals.
Understand that there will be sacrifices and that it can be boring.
Wealth is not income – wealth is assets.
Paul's heros have been professionals that, with average incomes, were able to achieve financial independence.
I look forward to speaking to you soon! Remember to book your session with me by joining my community here: https://www.renatabernarde.com/join *
I hope you enjoyed this episode; look out for another great one coming up next week!
Bye for now
RB
*The career strategic sessions are only available for free for a limited time only, so if you are reading this in the future, the link may have gone, sorry!   
**The information in this podcast is general in nature and does not take into account your personal circumstances, financial needs and objectives. Before acting on any information, you should consider if it is appropriate to you and in particular, you should seek independent financial advice.
How to book a free career session with me, subscribe to my newsletter and download my free guides?
When you join the Reset Your Career Community, you will access high quality advice to help you make better plans for your future, apply for jobs with ease (and no stress), and feel in control of your career. Learn more here: https://www.renatabernarde.com/join 
Where to listen to this podcast and subscribe for future episodes
How to give this podcast a rating or review on iTunes
If you enjoy this podcast, I'd love if you could give me a 5-star review, it helps so much. on iTunes, go to my podcast page, scroll down and below the list of episodes you will see the Ratings & Review box. You can tap to give the podcast 5-stars or write a review (you can be anonymous, just choose a nickname). I'm making donations to Red Cross Australia for all the support, reviews and rankings I receive during this Australian Summer. Thanks a million!! https://podcasts.apple.com/au/podcast/the-job-hunting-podcast/id1481423500
Other ways to enjoy this episode: