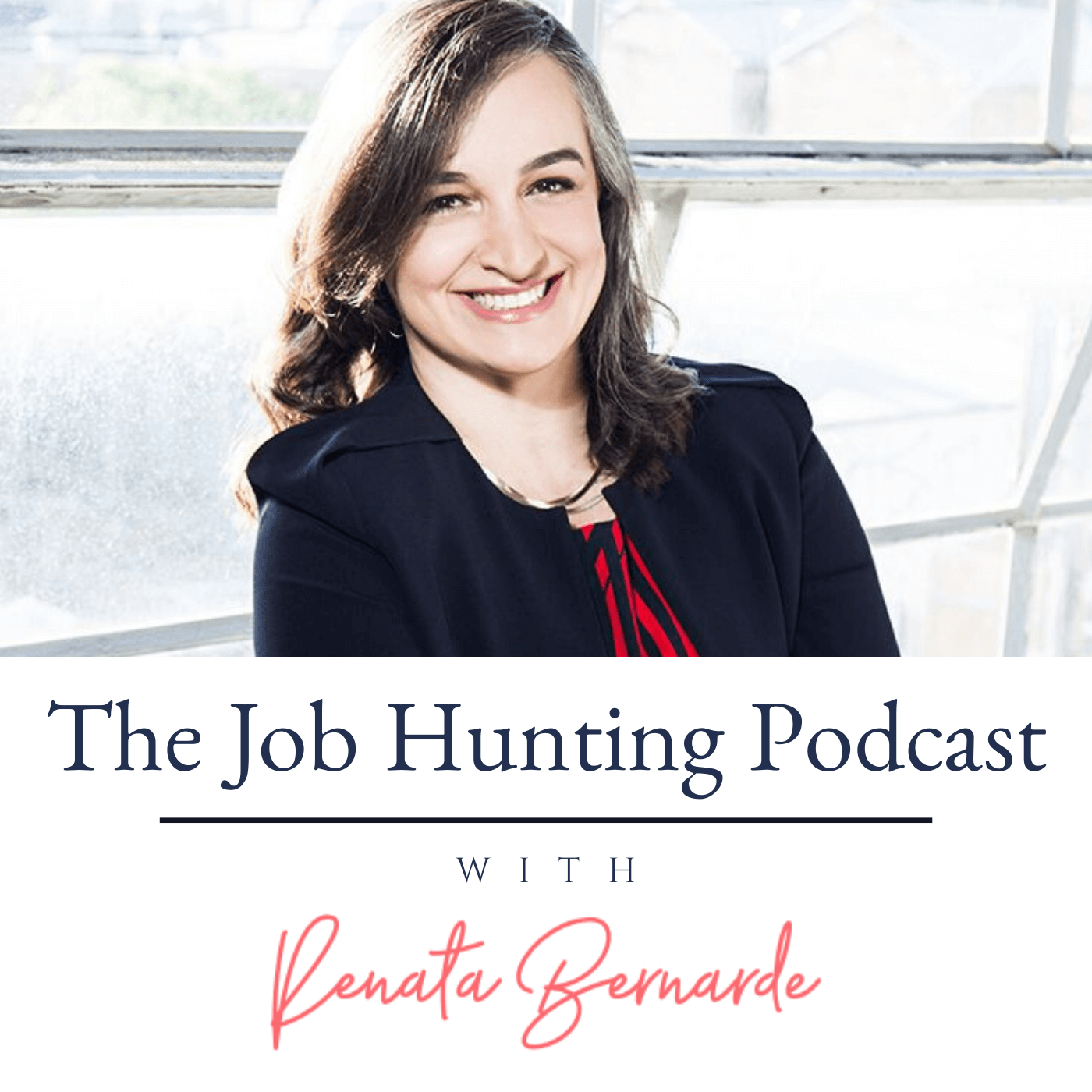 Hi, I'm Renata Bernarde, the Host The Job Hunting Podcast
The aim for this podcast is to help you nail your next job and have the career you want. If you are currently on the market looking for a new job or if you want tips on how to advance or change careers, make sure you follow this podcast on iTunes, YouTube or Spotify. 
Episode Notes
This is an episode I didn't think I would ever record. But then I reflected some more, and it seemed like the right thing to do.
This audio was first a Facebook Live video, and in fact it is my most popular video. I've been in two minds about sharing it on this podcast, because after posting it on my Facebook it really crystalized on my mind that I really, really want to always be a beam of light for you. I want to be positive, motivational, boosting your confidence and your resiliency so that you can go through your career transition with my support to achieve your career goals.
Ultimately, I decided that, for that same reason, I had to do this video live and now I'm sharing it with you on the podcast. Because of my deep concern that people will read these bad advices online and get themselves into a hut, make bad decisions and not even realize that these advices are poor and ill-considered in the first place. It's because of situations such as the ones I describe in this episode that I finally decided this is enough: I can't just be complaining about these things all the time. I want to take action and walk the talk. I know I can guide and coach job hunters and help professionals make better career choices, so this is what I've decided to do.
My purpose is to protect professionals in the corporate, government and nonprofit sectors. Those of us who have to manage our careers over time, to ensure it has longevity, and that we can be employed and our skills needed, and our career fulfilling.
I don't plan to do a lot of critiquing in the future, but by doing this one in the beginning of our journey together, I believe it was important for me personally to cement my philosophy and what I was trying to achieve and how I was different, and also for my followers to be aware of potential pitfalls of seeking advice and solutions online: remember to check your sources, check if the advice is applicable to your specific situation, validate it by running it past an expert or mentor, and if it still doesn't feel right, don't risk it.
Key takeaways: 
Don't quit your job on the first day!!: Maybe you're there to be that transformation.
Don't quit if your workspace isn't ready for you, or your email address: You might be there to actually create the workspace and develop a whole new area.
Don't quit if they talk about policies but not mission, vision and values.: You're there to serve, but you're also there to transform. They hired you because there is something that you need to do to help your organisation. Yes, purpose is important and you have to work for organisations that have a purpose. But they don't need to talk about it. They may just exude it.
No, people asking for endorsements on LinkedIn are not bullies! People change cities, jobs, towns, countries. And they may not have a network there to advocate for them, to champion them into a new area or career. And every time you write an endorsement, think about the readership. What is it that an employer needs to know about this person?"
And also:
Stay put, keep your job, give them time.
Follow mentors, professionals and experts that you have your best interest at heart and that you admire. but always have a critical sense to know when they have crossed a line or reached their limit.
I look forward to speaking to you soon! Remember to book your session with me by joining my community here: https://www.renatabernarde.com/join *
I hope you enjoy listening to this episode; look out for another great one coming up next week!
Bye for now
RB
* The career strategic sessions are only available for free for a limited time only, so if you are reading this in the future, the link may have gone, sorry! 
How to book a free career session with me, subscribe to my newsletter and download my free guides?
When you join the Reset Your Career Community, you will access high quality advice to help you make better plans for your future, apply for jobs with ease (and no stress), and feel in control of your career. Learn more here: https://www.renatabernarde.com/join 
Where to listen to this podcast and subscribe for future episodes
How to give this podcast a rating or review on iTunes
If you enjoy this podcast, I'd love if you could give me a 5-star review, it helps so much. on iTunes, go to my podcast page, scroll down and below the list of episodes you will see the Ratings & Review box. You can tap to give the podcast 5-stars or write a review (you can be anonymous, just choose a nickname). I'm making donations to Red Cross Australia for all the support, reviews and rankings I receive during this Australian Summer. Thanks a million!! 
https://podcasts.apple.com/au/podcast/the-job-hunting-podcast/id1481423500
Other ways to enjoy this episode: