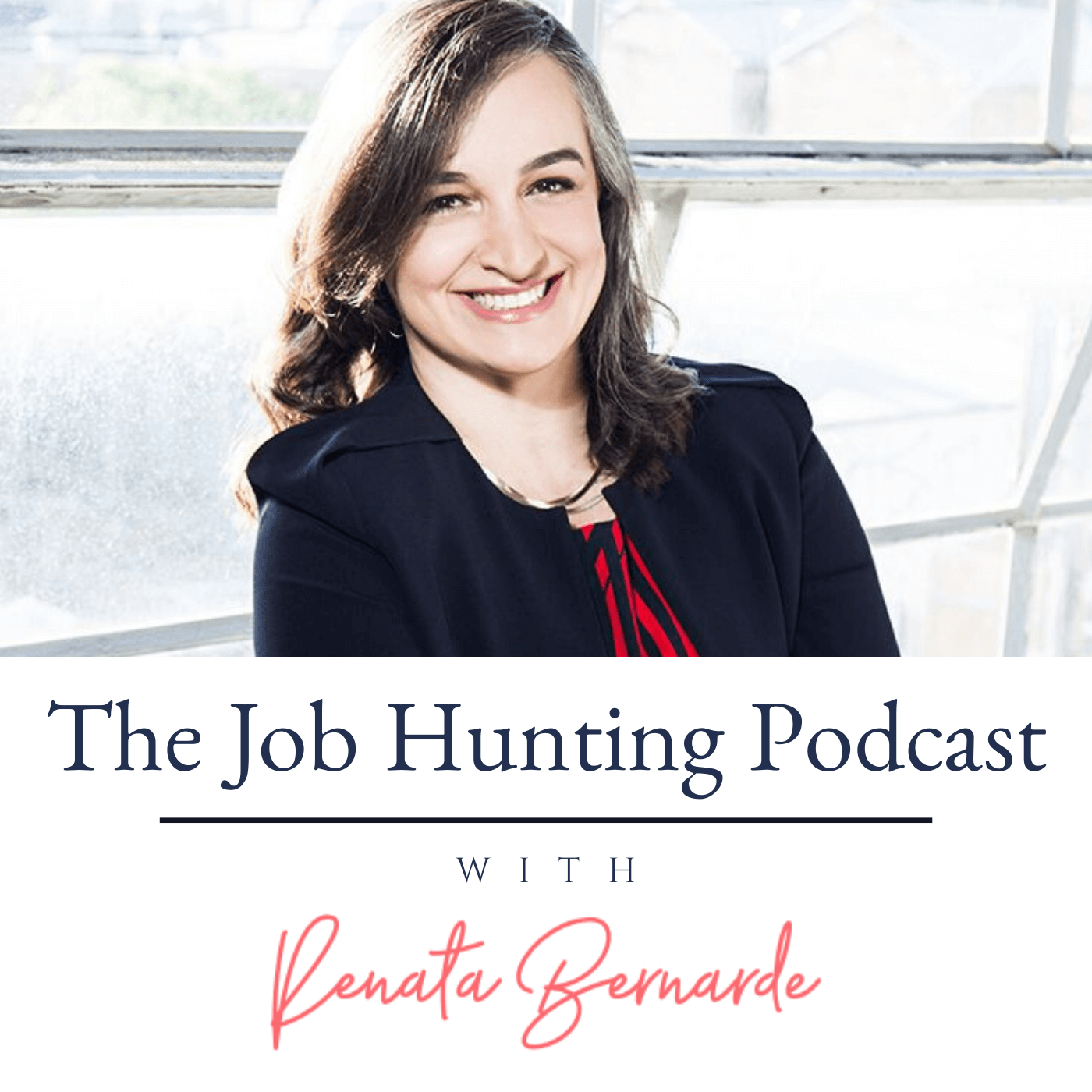 Hi, I'm Renata Bernarde, the Host The Job Hunting Podcast
The aim for this podcast is to help you nail your next job and have the career you want. If you are currently on the market looking for a new job or if you want tips on how to advance or change careers, make sure you follow this podcast on iTunes, YouTube or Spotify. 
Episode Notes
From a very young age I remember my favourite play game was to pretend I was working. I was the teacher, the secretary, the horse-jumping instructor! My barbies were doctors and vets, and this was before you could actually buy a "professional" Barbie! My family had great aspirations for me and those involved me getting a job and being successful at it. I started working very young and became very independent; I never looked back. It's been great for me and I encouraged my kids to do the same. 
In this episode you'll listen to me explain the steps my husband and I took to move to Australia, and why we did it. It's great sharing my story on the podcast, as many people ask me about it: why I've moved to Australia, why and how I changed jobs, and how I got to where I am now.
In this Facebook Live, which we have now editted into a podcast, I focused on what I believe were my key challenges along the way: finding a career in a new country, and juggling career and family.
Here are some key takeaways from what I learned along the way:
how building relationships are important for your career and sanity!

planning and designing your lifestyle and budget to reach your career/life goals and passion.

how to make the best of every opportunity, if not creating your own.
In sharing my story I hope to inspire you and encourage you wherever you may be in your path right now.
I look forward to speaking to you soon! Remember to book your session with me by joining my community here: https://www.renatabernarde.com/join *
I hope you enjoy listening to this episode; look out for another great one coming up next week!
Bye for now
RB
* The career strategic sessions are only available for free for a limited time only, so if you are reading this in the future, the link may have gone, sorry! 
How to book a free career session with me, subscribe to my newsletter and download my free guides?
When you join the Reset Your Career Community, you will access high quality advice to help you make better plans for your future, apply for jobs with ease (and no stress), and feel in control of your career. Learn more here: https://www.renatabernarde.com/join 
Where to listen to this podcast and subscribe for future episodes
How to give this podcast a rating or review on iTunes
If you enjoy this podcast, I'd love if you could give me a 5-star review, it helps so much. on iTunes, go to my podcast page, scroll down and below the list of episodes you will see the Ratings & Review box. You can tap to give the podcast 5-stars or write a review (you can be anonymous, just choose a nickname). I'm making donations to Red Cross Australia for all the support, reviews and rankings I receive during this Australian Summer. Thanks a million!! 
https://podcasts.apple.com/au/podcast/the-job-hunting-podcast/id1481423500
Other ways to enjoy this episode: