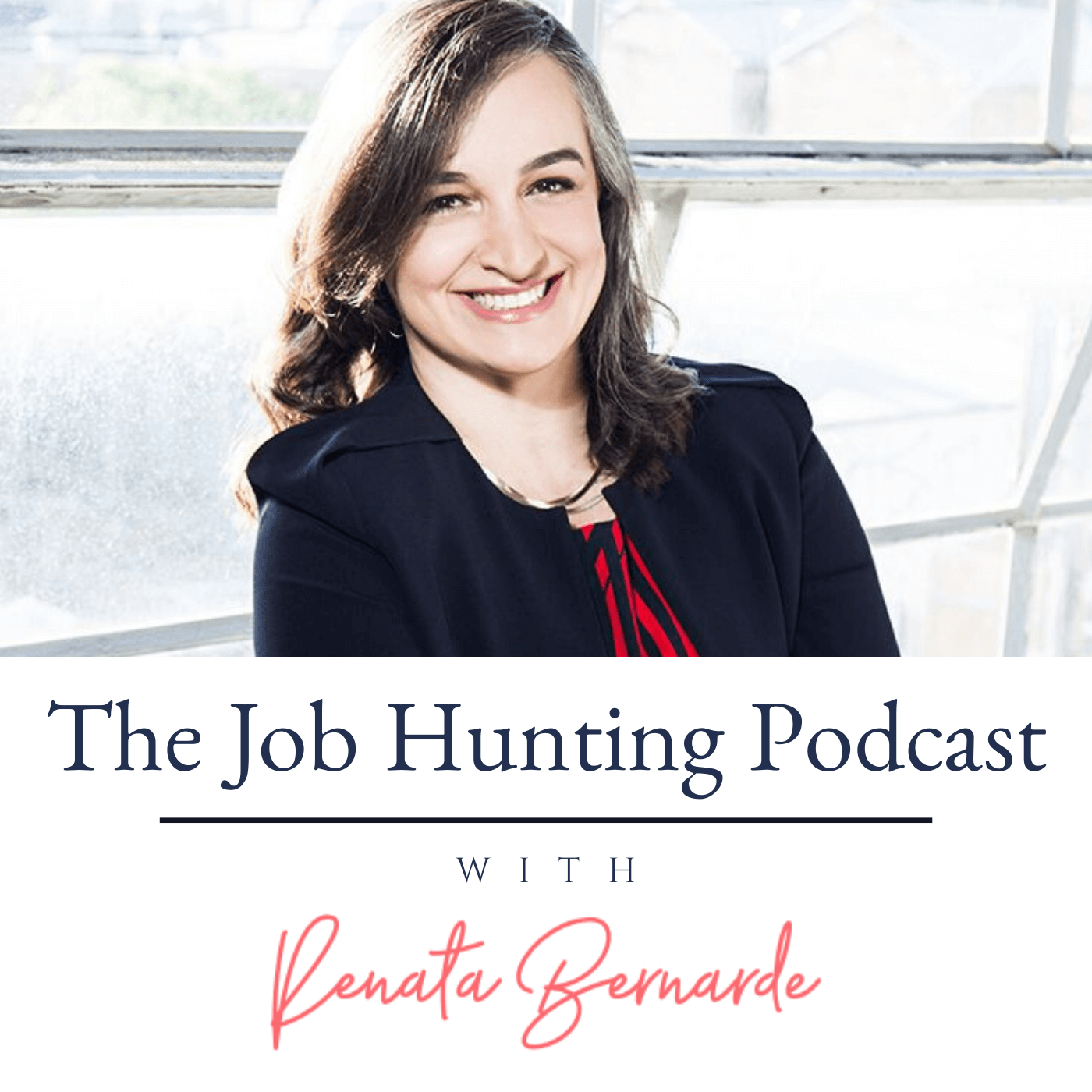 Hi, I'm Renata Bernarde, the Host The Job Hunting Podcast
The aim for this podcast is to help you nail your next job and have the career you want. If you are currently on the market looking for a new job or if you want tips on how to advance or change careers, make sure you follow this podcast on iTunes, YouTube or Spotify. 
How to book a free career session with me, subscribe to my newsletter and download my free guides?
When you join the Reset Your Career Community, you will access high quality advice to help you make better plans for your future, apply for jobs with ease (and no stress), and feel in control of your career. Learn more here: https://www.renatabernarde.com/join *
Episode Notes 
In this episode we will discuss my final 7 actions from the 31 Days of Action To Reset Your Career Project. I left these ones for last because although they are just as important, they should follow on from the first actions, which are more the foundation steps in resetting your career. These ones are the finetuning and the next step up in building your leadership skills, and stepping up to elevate your game and be ready to take on new opportunities, responsibilities and new jobs.
1. Register to attend a professional event.
We discussed this already in a previous episode, number 11: "What to invest in when you are job hunting: Options for 3 different budgets." That episode is jam-packed with tips and advice so that you only spend money when and if it's important for your job search. But in this episode we do a bit of a recap and dig a bit deeper. 
2. Stop saying "sorry".
Replace:
Sorry to interrupt WITH I'd like to add that…
I'm sorry we couldn't meet WITH Such a pity we couldn't meet…
I'm sorry but I don't understand … WITH I don't understand
I'm sorry if this is not what you want to hear WITH What I'm about to say may be out of the box…
Sorry I'm late… WITH Sorry I'm late – because if you are late you should apologize.
3. Book a meeting with your manager.
If you've been following the 31 Days Of Actions To Reset Your Career, by now you have done a lot!! Give yourself a pat on the back, my friend! Now would be a good time to address some of your career ambitions with your manager. Remember to first listen: ask him/her to tell you about the key themes for the company this year, what are the most important aspects of his/her work, clarify what you need to do to support them, and maybe even share with them your career interests and ambitions. 
4. Send two thank you notes
University of Texas Austin has done research extensively on this topic. And the results are important for you: writing thank you notes improves your well-being, as well as the well-being of the letter recipient!
And those genuine, authentic and positive connections are what you want to build in your life and your career. They are powerful links, and when you continue to invest time in building them, you are building a solid foundation for you to thrive as a person and as a professional.
On Episode 5 of The Job Hunting Podcast I go into more detail about the importance of giving thanks. You can find the audio and blog post here: https://www.renatabernarde.com/blog/5
5. It's time to update your LinkedIn profile
LinkedIn summaries are tricky business, I'm not going to lie! You need to follow your sector trends as well as the trends for 2020. When in doubt, be conservative: some summaries I see listed on "top summaries" in articles on the web are really interesting, but not exactly great for job hunters.
Here are my top tips:
Write in first person i.e. use "I"
Think about the reader and what they want to read about you.
Write it on Word/google doc. Check for spelling. Sleep on it.
Check the wording again. Send to a friend who loves English, ask them to review. Then publish.
Use dot points.
Use action verbs.
In-between jobs? Finish the summary with an invitation to catch up. You've nothing to lose!
6. Get to know 2 recruiters who are specialized in your sector.
Two is just the beginning. You should have a spreadsheet with the key recruiters in your sector and in your region. This is easily done:
Go to job boards like Seek, LinkedIn or Indeed
Search for roles you would like to apply
Check the recruitment organisations advertising them
The name of the recruiter may be listed there. If not, check the website
Follow (do not connect! See difference on my post from day 13!!) those recruiters on LinkedIn so you know when they are advertising: usually they will post on LinkedIn to let their network know.
Keep doing this for a few days/weeks and you will have a good list of people who can eventually help you get a job.
Considering going a step further and getting in touch with them? Or applying for a job? Remember that I have a free email template to help you connect with head-hunters, recruiter and hiring managers. You can get it here: https://www.renatabernarde.com/join
7. Invest in your career development
This is the FINAL DAY ACTION OF THE 31 DAYS OF ACTIONS TO RESET YOUR CAREER!!! Phew! I've been busy getting these 31 actions ready for you, and I hope you have enjoyed them!! Please comment below or send me a direct message!! I'd be delighted to hear from you if you've been implementing them!
If you are not yet subscribed to this podcast, do so. If you are not yet subscribed to my newsletter, please do so now. This is the easiest and cheapest way you can action this strategy and continue to invest in your professional development. I'll keep you accountable! Way we can continue to work together and invest in your career.
If you are considering going a step further and investing in your career, I'd love to help. With the link below you can contact me for a free (no commitment) consultation. My goal is to give you guidance: what is keeping you awake at night? What are your next steps? Why am I not getting interviews? Why is it taking so long for me to get my next job?
When I posted this on Instagram, I got some great feedback from my followers, and I'm so glad that it is resonating with many of you. I think the recruitment and selection process is heavily weighted towards the employer, and it can be a very lonely and uncertain experience for the candidate. Let's change that, shall we?
I look forward to speaking to you soon! Remember to book your session with me here: https://www.renatabernarde.com/join *
I hope you enjoyed this episode; look out for another great one coming up next week!
Bye for now
RB
*This will be available for a limited time only, so if you are reading this in the future, the link may have gone, sorry! 
How to book a free career session with me, subscribe to my newsletter and download my free guides?
When you join the Reset Your Career Community, you will access high quality advice to help you make better plans for your future, apply for jobs with ease (and no stress), and feel in control of your career. Learn more here: https://www.renatabernarde.com/join *
Where to listen to this podcast and subscribe for future episodes
How to give this podcast a rating or review on iTunes
If you enjoy this podcast, I'd love if you could give me a 5-star review, it helps so much. on iTunes, go to my podcast page, scroll down and below the list of episodes you will see the Ratings & Review box. You can tap to give the podcast 5-stars or write a review (you can be anonymous, just choose a nickname). I'm making donations to Red Cross Australia for all the support, reviews and rankings I receive during this Australian Summer. Thanks a million!! https://podcasts.apple.com/au/podcast/the-job-hunting-podcast/id1481423500
Other ways to enjoy this episode:
Where to follow the 31 Days of Action to Reset Your Career (look for posts during January, but note they will be taken down in a few weeks!):